sotpyrk/canyouseeanything

KRYPTOS' Ed's scuplture Pre-K "K0"
---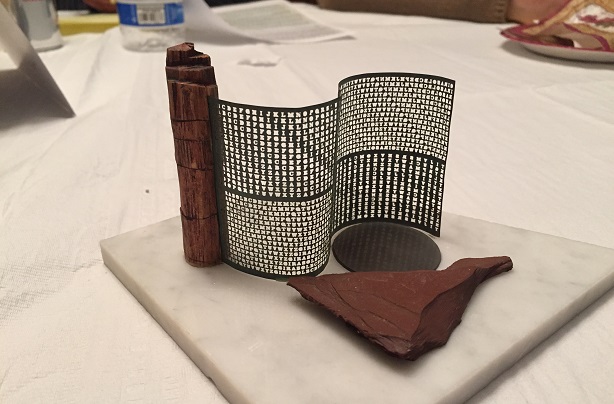 Click Here To Enlarge

--Image Compiled From

Klaus' blog


Yahoo Groups: 18045 18066

Dear All,

I will be adding my full notes a little later.

Bill and I sat down after the dinner to decode Ed's Mini Sculpture.


Keyword: RUG
OMITTED LETTERS?:

Yes, See red notations below.

GARBLED TEXT: 'ETRANSEWJ'

Yes, See green notations below.
Note: I have worked on the garbled last part since the dinner to no avail..if anyone wants to try their hand at it...have fun.
SOLUTION:
CODES MAY BE DIVIDED INTU (sic) TWO DIFFERENT CLASSES, NAMELY SUBSTITUTIONAL AND TRANSPOSITIONAL TYPES.
THE TRANSPOSITIONAL BEING THE HARDEST TO DECHPHER (sic) WHTHOUT (sic) T[H]E* KEY. ETRANSEWJ

---
*Just like in K2 a letter was omitted in the last part. When the 'N' is added right before the red lettering you get:

NBZYIAK N[N]V EKP YZIUTJYCA = WHTHOUT T[H]E KEY ETRANSEWJ
---