sotpyrk/canyouseeanything

---
The Windows Conspiracy

---
Can you See Anything?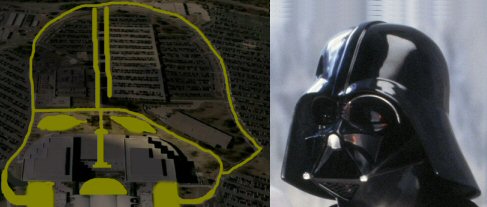 ---
SPOOF interview with Ed Sheidt - (like The Onion)
KRYPTOS Just a Bunch of Cockamamie Gibberish, Creator Reveals



---


NOTES: Being a spoof is great...but they do need to get some of the more important information right...the Creator is Jim Sanborn not Ed Sheidt.

(Even if they missed the mark a bit...it will still make you smile)
Langley, Virginia (The Agency Gazette) - Controversial news arrived this week when the creator of KRYPTOS, a large ciphertext work of art located near CIA headquarters, revealed that the cryptic sculpture is just a bunch of gibberish. For nearly two decades, frustrated government cryptoanalysts have spent countless hours over long lunches trying to crack the code. Now it would seem obvious why they have been unable to succeed.

Ed Scheidt, the mastermind behind the encrypted riddle-within-a-riddle, was about to retire when he was approached to help design the sculpture. "I decided I just wanted to send everyone at the Agency a great big [BAD WORD] YOU when I left," admitted Scheidt. "So I wrote out a bunch of meaningless drivel and called it a day!"

Oddly, fellow cryptoanalysts claim to have decoded 75% of the text. "Well, I guess meaning can be found in just about anything," pondered Mr. Scheidt. "Now if you'll excuse me, I have a train to catch..."

-- Compiled from thespoof.com
---
3D K4 is Solved!!! But what does it all mean.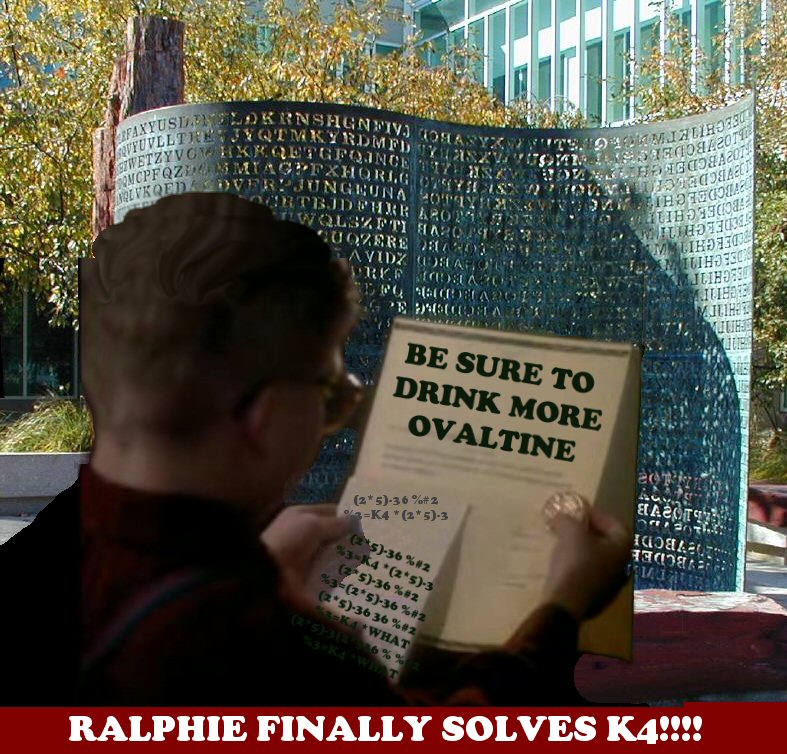 ---
3D Half-Life version of Kryptos -- Stress Relief for all of you frustrated in trying to find the solution...
Patrick Foster (Frustrated after months of trying to solve Kryptos....)

-- Compiled from Patrick Foster Kyptos Pages
---
2009 April Fool's Day Prank (PRANK K4 Solved announcement) ---- Child prodigy cracks Kryptos-4, April Fulsedeigh, age 11
Unfortunately, the CIA wouldn't let me in with my trowel, so I guess the treasure is up for grabs, now. Read the chapter yourself to find out where to dig; as the story says, "That's part of the magic." (To read it online, click the table of contents, and then select "When the Sun Went Down." Be sure to click through all four pages of the chapter.)

Good luck! Maybe you can sneak in there after sundown. ;)
Sincerely,
April Fulsedeigh, age 11
Waldo Peirce Elementary School, Turtle Cove, Maine
...Read full article...
-- Compiled from Bill Briere and Daughter
---